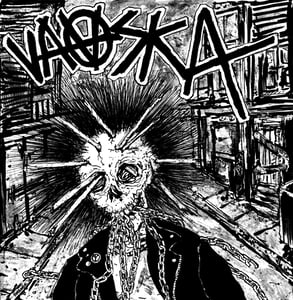 $

5.50
Rejoice, VAASKA have returned with more hard punk pounders for the masses! Originally pressed in a limited amount by VOX POPULI for the band's Japanese tour in the winter of 2016, Beach Impediment is delighted to make the latest release from Austin's finest available domestically for the hardcore punk fanatics that know the real deal and for those that would like to become more educated in the field. "FUTURO PRIMITIVO" features five tracks of the top notch D-Beat punk with blazing guitar leads and ferociously belted out lyrics in Spanish that you have come to expect from these guys over the years. Each record comes in a felt based glue pocket sleeve adorned with the stark black and white art of the great Brian Miller that has been the band's visual trademark since the beginning. Limited to a one time pressing of 500 copies.
There are 100 copies on TRANSLUCENT PINK vinyl available for mailorder only while they last. Please choose them from the drop down menu below.
UPDATE: PINK VINYL IS SOLD OUT.