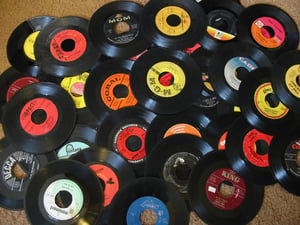 $

3.00 - On Sale
In the midst of some office cleaning I've marked down a plethora of older distro 7"s. Lots of imported and domestic titles from recent times. Get em while ya can, once they're gone - they're gone! I've included a brief description for each record as well:
DIRTY & HIS FISTS - S/T EP - California garage punk greatness featuring members of BLAZING EYE, limited to a few hundred copies. Feel It Records.
PSICO GALERA - SENZA VIA DI FUGA EP - Classic Italian hardcore punk worship brought to you by members of CAREER SUICIDE, FUCKED UP, SMART COPS, and plenty of other seasoned groups! Import on La Vida Es Un Mus Records.
SMERTEGRAENSENS TOLDERE - S/T EP - Danish hardcore punk, limited to 200 copies. Mastermind Records.
ULTRA - MISTICA MODERNA - Barcelona based hardcore punk, absolutely killer! Import on La Vida Es Un Mus Records.