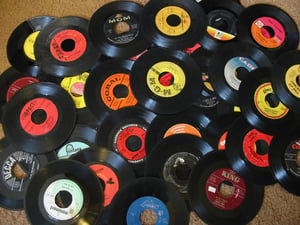 $

4.00 - On Sale
In the midst of some office cleaning I've marked down a plethora of older distro 7"s. Lots of imported and domestic titles from recent times. Get em while ya can, once they're gone - they're gone! I've included a brief description for each record as well:
ATTACK SS - MASK OF THOSE EP - Japanese noise punks latest offering on the stellar Distort Reality label!
CEMENT SHOES - A PEACE PRODUCT OF THE USA EP - Richmond hardcore punk on Feel It Records. LAST COPY!
FORWARD - APATHY KILLS PEOPLE EP - Japanese hardcore LEGENDS still churning out the goods, on Portland's great Black Water Records! LAST COPY!
HARNROHRER - S/T EP - official reissue of this West German punk classic! Imported slab compliments of the great Static Age Records. LAST COPY!
HEZ - PROBLEMAS EP - top tier hardcore punk from Panama! Import on Logica Ciega Records.
INSINUATIONS - PROMPT CRITICAL EP - Excellent reissue of this outsider punk single from late 70s/early 80s Richmond, VA before it became a watered down/shitty version of Northern Virginia. Highly recommended and on the Feel It label!
KIELTOLAKI - ELAMANVALHE EP - latest offering from the modern kings of Finnish hardcore punk. Overlooked but absolutely smoking! Import on Kick Rock Records.
MATI - S/T EP - NYC hardcore punk in the Greek language, featuring members of STIGMATISM. Self released!
POWER - THE FOOL EP - Australian punk rock set apart from the rest of the herd, a killer slab on Feel It Records!
RED DELICIOUS - FAR FROM THE TREE EP - Midwest hardcore punk greatness on the Slugsalt label!
RHDP - SILINYADOR EP - Virginia Beach via the Philippines punk madness! Probably my favorite punk band out of Virginia, extremely underrated! Tension Head Records.
SPRAUT - DET SMUTSIGA LEVET EP - Swedish hardcore punk of the rather ripping variety, imported to us from the great Adult Crash Records!
UNARM - THE VOICE FROM FORCED SILENCE EP - Tokyo peace crust! Import on Adult Crash Records.