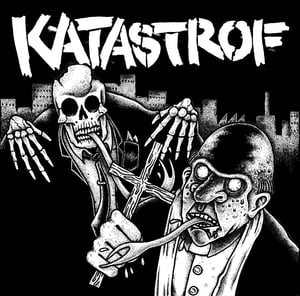 $

6.00
Beach Impediment is proud to present the US pressing of the debut release by Sweden's KATASTROF. A few years after the demise of their short lived yet utterly fantastic project known as INSTITUTION, the voice of TOTALITÄR and the riff boss of HERÄTYS have come together yet again to bring us some more top shelf mangel; a style that they've proven to be knowledgeable in the composition and execution of for quite some time now. Five tracks recorded at Communichaos Media Clay Station that will please any enthusiast of the genre / art form that is Swedish hardcore. Each record comes in a glue pocket sleeve and includes a download code.
100 copies on WHITE VINYL for mailorder while they last.
UPDATE: Color vinyl is GONE!
Available in Europe from ADULT CRASH RECORDS