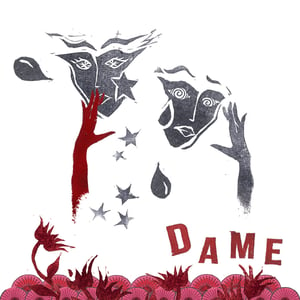 $

15.00
At long last, as a follow up to the 7" on the band's own Charm School label a few years back, we are granted the debut 12" by Boston's DAME. Though currently spread out geographically, the quintet were able to capture these modern classic tracks of post punk / gothic brilliance at Side Two Studios before the world turned upside down on us all. Equal parts melancholic and haunting, these seven tracks permeate the deepest corners of your psyche, refusing to vacate for quite some time. Each record comes in a full color jacket along with a fold out 24" x 24" poster insert, both of which feature art by guitarist Anna Cataldo.
There are 100 copies on BLUE VINYL for mailorder while they last.
UPDATE 7/28/20 - BLUE VINYL is SOLD OUT!