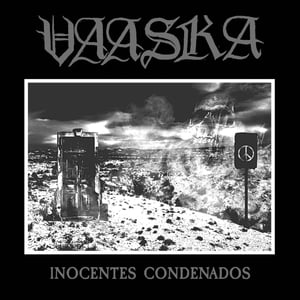 $

6.00
A lot has happened in the three years since the "FUTURO PRIMITIVO" EP dropped in correlation with the band's 2016 Japanese tour and now VAASKA returns to a world that's worse off with what could possibly be their final statement in the form of the "INOCENTES CONDENADOS" EP. Six tracks of smoldering D-Beat based hardcore punk which could arguably be the greatest recording session of their 10+ years as a band. Mastered by Kenko at Communichaos Media Clay Station in Sweden AKA exactly who you want to be twisting the knobs on a project like this. Each record comes in a Discharge style pocket sleeve with collaborative effort imagery by Todo Destruido, Jack Blackmon and Ryan Fromdeland. Limited to 500 copies.
100 copies on OPAQUE YELLOW VINYL for mailorder while they last!
UPDATE - 1/22/19: YELLOW VINYL is SOLD OUT!
Available in Japan from VOX POPULI RECORDS.