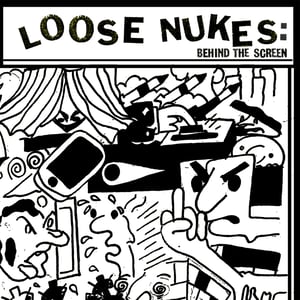 $

7.00
United by the confounds of the great Commonwealth of Pennsylvania, LOOSE NUKES is truly an East meets West hardcore punk detonation of immense proportions. Consisting of one half of Pittsburgh's late great BLOOD PRESSURE along with other residents of the Quaker State that have served time in the likes of SICKOIDS, DARK THOUGHTS and countless other Philadelphian greats over the years, the pedigree is undeniable and, as one would guess, the tunes themselves are high caliber in both their composition and raw delivery. "BEHIND THE SCREEN" is eight tracks of smoldering hardcore punk in just over nine and a half minutes. If you're looking for some kinda new spin on the olde wheel, it might be best to just keep walking / scrolling / etc. But if ya got a hankerin' for well executed hardcore punk, well shit bud, you've arrived! Each record comes in a double sided fold out sleeve a la the Cheetah Chrome Motherfuckers - Furious Party 7" adorned with art by resident Nukes crooner Jim Shomo.
100 copies on PURPLE VINYL for mailorder while they last!
UPDATE 9/10/19 - PURPLE VINYL IS SOLD OUT!