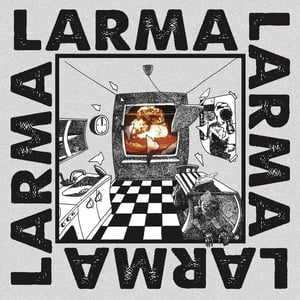 $

14.00
Can one ever have enough quality mangel in their life?! Beach Impediment is proud to not only be handling the North American pressing of this bombastic debut by Sweden's LARMA but to also answer that lingering question with a resounding "HELL NO!" Considering the folks in this band have been responsible for a large portion of the top tier raging hardcore punk to come from the greater Scandinavian area via their previous endeavors in the likes of SKITKIDS, HERÄTYS, INFERNÖH and loads more over the past couple decades, it's not even remotely surprising that the contents of this 12" are a remarkable regional tutorial of sorts worked into a proper ass kicking from start to finish. Eleven tracks of kang punk hysteria that is not for the faint of heart. Each record comes in a UV gloss jacket featuring cover art by the band's own Jonas Pungen. Limited to a one time pressing of 500 copies.
Got a few on CLEAR VINYL that I stumbled upon recently. They are THE LAST COPIES OF THIS RECORD, get it now should ya need to!
Available in Europe from ADULT CRASH RECORDS.