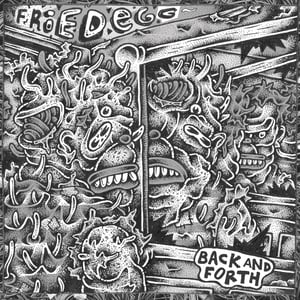 $

6.00
FRIED EGG are back with a new EP for Beach Impediment Records following their debut 7" on Negative Jazz and a self-released flexi. For the uninitiated, FRIED EGG have been one of Central Virginia's most exciting and original hardcore punk acts to watch over the past couple of years. Their style has a very contemporary feel, yet manages to stand out based on consistently inventive songwriting that is matched with the finesse and power that belongs in the hardcore punk genre. "BACK AND FORTH" boasts four new cuts (tracked live including vocals for anyone keeping score) that truly stand out from the pack. From the precise and original guitar lines to the absolute wrecking crew of a rhythm section, FRIED EGG have produced an EP that commands your attention - a stark, original effort that obliterates any generic, poorly recorded garbage in its way. Need we say more? Each copy comes housed in a glue pocket sleeve adorned with artwork by Nathan Ward.
100 copies on color vinyl for mail order while they last; 30 on EGG PATTERN VINYL (these cost a bit extra to make, hence the difference in price) and 70 on CLEAR YELLOW VINYL.
UPDATE: ALL COLOR VINYL IS SOLD OUT!